On 27th April 2008
Michael Fabricant opened the bridge at Barton Marina on Saturday 26th
April which gives the local community of Barton Under Needwood safe
cycle and pedestrian access to the complex. This was Michael's first
extensive visit to the site and was delighted with what he saw. He
praised the owner of Barton Marina, Barry Morgan for 'having the vision
to build an innovative and architecturally pleasing complex.' He
continued by saying, 'Local councils should take note that by using
quality bricks and reclaimed timbers amazing results can be achieved. I
would like to see more new construction of this kind in the centre of
Lichfield and a little less concrete'.
The MP then toured the retail site talking to each of the shop owners
before attending lunch at The Waterfront.
At the next General Election, Barton Under Needwood will be transferred
out of the Burton Parliamentary constituency and into that of Lichfield.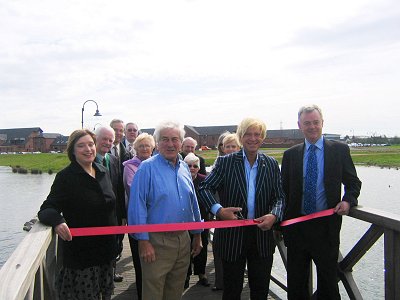 Photograph shows front row left to right: Sarah Smith (General
Manager, Waterfront at Barton Marina), Barry Morgan (Owner), Michael
Fabricant, and Councillor Tim Corbett.