On 28th January 2008
Michael Fabricant is backing plans proposed by Mark Price – the Managing
Director of the employee owned Waitrose supermarket chain – to introduce
a tea lady, tea trolley and biscuits to busy international air and sea
ports to revive passengers after a long journey and queuing at passport
control. He has tabled a Motion which has already gained the support of
a number of fellow Members of Parliament.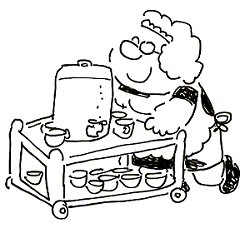 Michael says: "Since the Government introduced tighter passport
controls – which I welcome, but failed to provide extra passport
officers, queues at passport desks have been getting longer and longer.
It is becoming a national embarrassment as well as being very tedious
for already weary travellers. This scheme, which would be paid for by
Waitrose, will help revive jet lagged passengers and has to be a good
thing. It will be a cheery welcome back to Britain!"
Mark Price adds: "I do a lot of foreign travel and I have been
progressively disappointed with how poor it feels when you return home.
The whole experience is pretty bleak. I thought wouldn't it be nice if,
when you arrived in the UK, you were greeted with a nice cup of tea."