On 3rd November 2007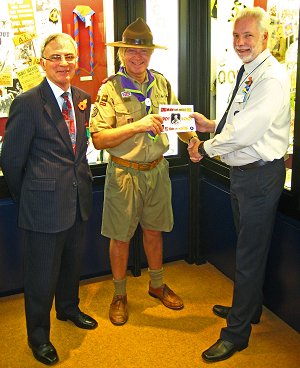 Dressed as a 1954 Scout, Michael Fabricant visited the '100 Years of
Scouting in Lichfield' exhibition at St Mary's Heritage Centre in the
Market Square in Lichfield today (Saturday 3rd November), gave out long
service awards to Scout leaders, and received the 'Lichfield & District
Anniversary Booklet' which has been given free to all current scouts and
cubs in the area.
Michael, who was both a cub and a scout, says: "Lichfield was one of
the first places in the world to set up a scout troop 100 years ago when
Robert Baden-Powell founded the movement. The exhibition in the
Heritage Centre celebrates this and brilliantly illustrates the life of
scouting since 1907. It is fascinating, sometimes amusing, and well
worth a visit whether you have been a scout or not. Every visitor will
receive the Anniversary Booklet which was also presented to me and which
took David Arthur – President of the Lichfield & District Scouts – over
4 years to compile." The exhibition will remain open into 2008.
As well as visiting the exhibition, Michael Fabricant gave David Arthur
a Certificate commemorating 25 years service with scouting in Lichfield.
Photograph shows David Arthur (left) with District Commissioner John
Burdett (right) presenting Michael with the Anniversary Booklet.