On 15th October 2007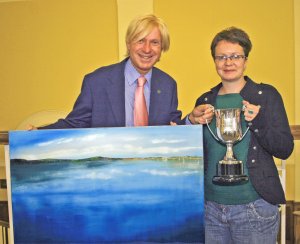 Michael Fabricant opened the Lichfield Society of Artists Exhibition at
The Friary in Lichfield at 11am on Saturday 6th October and spoke about
the urgent need for a permanent art gallery in the City. He reminded
those present that "the Society started in 1945 and has been holding
exhibitions twice a year ever since. It has gone on from strength to
strength, but with the future of The Friary under review and with such a
lack of space, there needs to be a permanent and larger exhibition
space. Perhaps the restored Regal Cinema could be used" he said to
cheers.
"I praise the work of County Councillor Terry Finn who has been in
contact with the Portfolio Holders at Stafford to discuss the future
possible location of an art gallery in Lichfield" Michael said later.
"I know that further meetings are planned to discuss a number of
suitable sites which are presently owned by the County."
After the Opening, Michael Fabricant handed out prizes including the
'Michael Fabricant Landscape Cup' – an annual award which was won this
year by Maria Mallender from Lichfield with her oil: "Distant Shore".
The photograph shows Michael and Maria together with her painting and
the Cup.