On 15th October 2007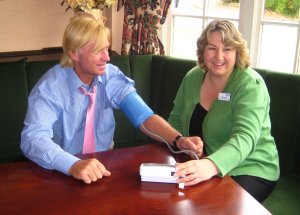 Michael Fabricant had his blood pressure taken by Stroke Association
Nurse, Sharon Bonney, on Saturday 6th October. Lichfield Rotary Club
and The Stroke Association are working together for the fourth
consecutive year to help combat high blood pressure – the single biggest
factor for stroke. "Despite wondering whether Gordon Brown would bottle
out or not of having an election, my blood pressure kept remarkably low:
116 over 73. But high blood pressure is a killer and can cause serious
strokes. So I applaud this opportunity for people to get their blood
pressure checked" says Michael Fabricant.
"Free blood pressure measuring will be available on Saturday, 13th
October 2007 for local residents and workers at St. Mary's Centre in
Lichfield from 9am to 3pm. I urge people to have this quick and
painless check up" Michael adds.
The campaign has proven to be extremely successful over the past three
years, with record numbers of people getting their blood pressure
measured. This year, Rotary hope to encourage more than 30,000 people
throughout the UK to take advantage of free health checks.
Rotarian Alan Sanders of Lichfield Rotary Club says: "We hope local
residents will stop by our stand in St. Mary's Centre, in the Market
Square, Lichfield on Saturday, 13th October and have their blood
pressure measured. It will only take a few minutes but it could help
save their lives."
Each year an estimated 150,000 people across the UK will have a stroke.
It is one of the top three causes of death and the single largest cause
of adult disability. High blood pressure is the most important causal
risk factor for stroke causing about 50 per cent of ischaemic strokes.
There are no symptoms of high blood pressure, so these measurements are
vitally important.
Photograph shows Nurse Sharon Bonney from the Stroke Association taking
Michael Fabricant's blood pressure in Lichfield.