On 22nd September 2007
Michael Fabricant opened the Huddlesford Boat Gathering near Lichfield
on the morning of Saturday 22nd September. Michael arrived in grand
style on a narrow boat travelling up the Coventry Canal and cruising
into the Lichfield Canal together with the President and Chairman of the
Lichfield & Hatherton Canals Restoration Trust and officers of the
Lichfield Cruising Club which hosted the event.
"The sunny weather encouraged a good turnout of both narrow boats and
visitors", says Michael Fabricant. "Events like these demonstrate the
strong support that the restoration of the Lichfield canal has amongst
people in Staffordshire and beyond." Michael was recently made Patron
of the Trust.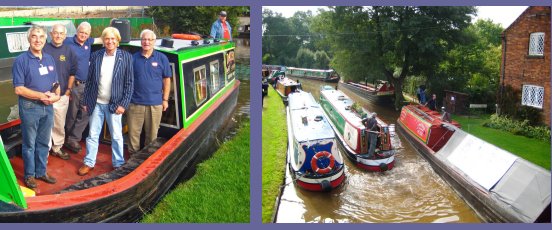 Photos show Michael Fabricant opening the Gathering with Brian Kingshott
(Chairman of the Restoration Trust) extreme left and Eric Wood
(President of the Restoration Trust) extreme right; and a 'traffic jam'
on the canal as boats arrive by the Lichfield Cruising Club for the
Gathering.