On 14th July 2007
Michael Fabricant joined Terry Robertson, holder of the Royal Yachting
Association Instructor's Certificate, for training on the narrow boat
Shropshire Lass at Great Haywood on the Trent & Mersey Canal on Saturday
14th July. Michael is a keen narrow boater, Patron of the popular
Lichfield & Hatherton Canals Restoration Trust, and a member of the
Lichfield Branch of the Inland Waterways Association. But Michael says:
"Despite having spent many hours at the helm of narrow boats, there was
a surprising amount still to learn including some helpful shortcuts
about how to moor, reverse, tie up, and what to do in emergencies. I
was delighted at the end of the day to be awarded my Helmsman's
Certificate.
"Individuals interested in learning how to narrow boat should contact
Terry on 01785 824012 or 07947 337492."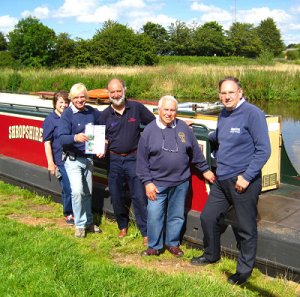 Photograph shows Michael Fabricant being given his certificate by Terry
Robertson with members of the Inlands Waterways Association alongside
Shropshire Lass at Great Haywood.