On 22nd June 2007
Michael Fabricant visited Nether Stowe High School on Friday 22nd June
to present national certificates to biology teachers who have achieved
the best A level results in the country. The first certificate issued
by The Good Schools Guide is for the best results in A level biology at
any English School and the second certificate is for the best result
achieved nationally by girls taking A level biology at a non-selective
state school.
"These certificates are a major coup for the West Midlands" says Michael
Fabricant. "Nether Stowe High School in Lichfield has achieved the best
results in the country for A level biology and the message is clear: if
you think your child is a budding doctor or medical research scientist,
you should seriously consider sending them to Nether Stowe. What an
incredible result!"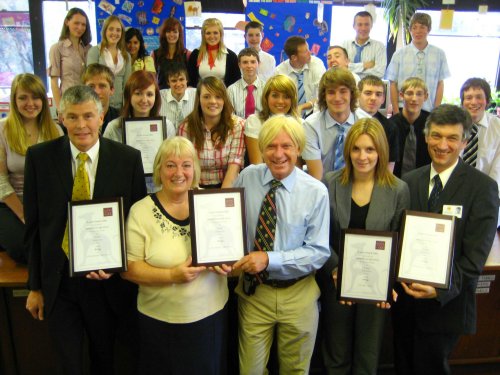 Photograph shows Michael Fabricant with biology students in the Lower
6th (Year 12) who will take biology A level next year at the School.
Front row shows, left to right: Steve Sturgeon (Head of Biology),
Patricia Douglas (former Head of Science for the period for which the
certificates have been awarded – just retired), Michael Fabricant,
Nicola Mason (current Head of Science), and Barrie Cooper (Headteacher).