On 22nd April 2007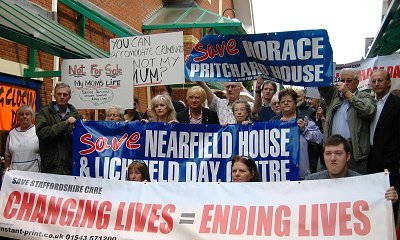 Around 250 protesters marched through Lichfield yesterday (Saturday 21st
April) against the closure of care homes in Staffordshire. Michael
Fabricant says "The decision to close all residential care homes in
Staffordshire by the end of 2008 and all day centres by the end of 2009
was controversial from the very start and was only passed at County with
a majority of one. If Labour councillors who supported this decision
were in any doubt about the strength of feeling about this decision,
they won't be now. I am proud of everyone who talk part in this march
through Lichfield.
"The Staffordshire branch of RAGE – Relatives Action Group for the
Elderly – are helping me prepare a dossier to present to the Local
Government Ombudsman to determine if there has been misconduct by the
County Council. I will also initiate a major debate in the House of
Commons on this subject which is of national interest.
"The mortality among elderly people forced to move home is very high and
the way the County has addressed this whole issue has been heartless.
As RAGE say: 'Changing lives equals Ending lives'."
Photo shows the start of the march in Lichfield. Immediately to the
left of Michael is Elaine Kirkham, Co-Chairman of Staffordshire RAGE.