On 9th March 2007
Michael Fabricant met with the Chasetown Pensioners Group on Friday (9th
March) in Burntwood to discuss their concerns.
"The meeting lasted just under two hours and was very constructive.
Matters raised included the state of the NHS and getting doctors
appointments, pensioners finding their few savings are being taxed, the
closure of Staffordshire's care homes, the lack of policing, and free
travel concessions.
"A number of very local issues were also raised and I am hoping that a
senior councillor from Lichfield District can attend their next meeting.
In the meantime, I will be taking up a number of the issues raised and
will be reporting back."
On Friday evening, Michael Fabricant is attending the Christchurch Men
of Burntwood Any Questions night at St Matthews Social Club in
Burntwood.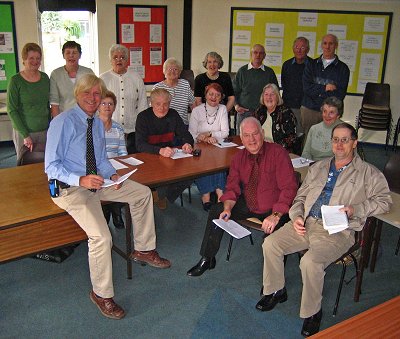 Photograph shows some of the members of the Chasetown Pensioners Group
with, from left to right at the front: Michael Fabricant, Colin Waldron
(Chairman), and Alun Jones (Treasurer).