On 4th March 2007
Michael Fabricant joined scores of protesters in the pouring rain by the canal at Fradley Junction near Lichfield on Sunday afternoon (4th March) to protest against massive cuts to the canal system being made by the Department of the Environment and Rural Affairs (DEFRA). Michael, a member of the Inland Waterways Association (IWA) and a keen narrow-boater, says: "These cut back will jeopardise all the improvements we have seen over the last 20 years. Whether you are a narrow boater or not, canals improve the local environment, encourage wildlife, and attract millions of tourist dollars.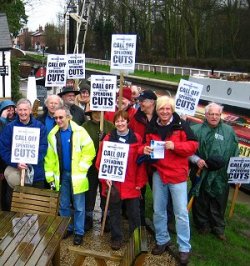 "The cut backs are due to the incompetence of DEFRA who have to find an extra £200 million because of the loss of money resulting from their mishandling grants to farmers and it is British Waterways who maintain our canals who are now suffering. This is plain wrong. It is essential that canal funding is restored or they will just become muddy ditches in the years to come. I shall be contacting Secretary of State for DEFRA, David Milliband, to emphasise the importance in restoring grants to British Waterways." Fradley Junction is the meeting point of the Coventry Canal and the Trent & Mersey Canal where British Waterways maintains a repair shop, café, and boat provision shop.
Michael first raised this matter in Parliament in November of last year. A report can be found at:www.michael.fabricant.mp.co.uk/news-00652.ihtml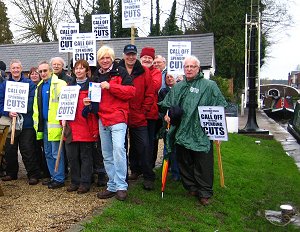 Photographs show members of Lichfield branch of the Inland Waterways Association with Michael Fabricant at Fradley Junction. To the left of Michael is Margaret Beardsmore (both in red), Chairman of IWA Lichfield which has over 500 members.