On 15th December 2006
When Michael Fabricant visited Rugeley Power Station on a blustery Friday 15th December, Station Manager David Leich showed Michael the new 600 foot chimney being constructed which will release 'clean gases' after they have been through the new flue gas desulphurisation plant currently being constructed. The completion date for the project is summer 2008 and will employ 400 construction engineers at the peak of the work.
Michael says "This £145 million investment in Rugeley by International Power – a British Company – will secure around 1000 jobs in the area for at least a further 20 years. It will also make Rugeley a far greener power station and will ensure that the UK is not wholly dependent on natural gas from parts of the world subject to turbulent political instability."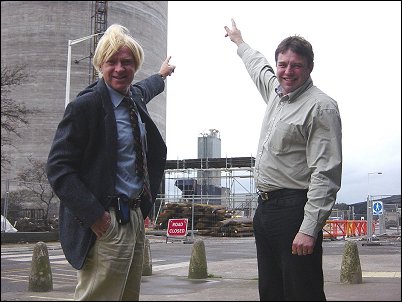 Photograph shows Michael Fabricant (left) being shown the new 600 foot chimney currently under construction by David Leich, Station Manager.