On 4th December 2006
Michael Fabricant says: "Residential park homes are an increasingly popular choice of quality affordable housing – and people living in park homes in Staffordshire are now being given even greater protection under the law."
Michael's comments follow visits to the Lower Lodge Mobile Home Park in Rugeley Road, Armitage and after he took part in a special briefing at the House of Commons on the future of the park homes industry. "According to government figures, around a quarter of a million people now live on residential parks – of which there are more than ten parks in Staffordshire – and demand is outstripping supply. Park home residents need protection which conventional home owners and lessees already enjoy" adds Michael.
The MP was updated on the progress of the Government's reforms at the first reception in Westminster to be hosted by the All Party Group for the Welfare of Park Home Owners. Government minister, Baroness Kay Andrews OBE joined the event to explain the recent legislation that had created extra safeguards for park home owners whilst ensuring a framework that encourages developers of residential parks to provide for the growing demand.
Michael met with representatives of park home residents' associations and figures from the park homes industry to review the changes. Also present was Secretary to the all-party group, Lord Graham of Edmonton, who has championed park homes and their owners over many years.
Park homes can provide attractive, high-quality housing. Prices often compare favourably with nearby bricks and mortar properties, and residents can also benefit from living within a friendly and mutually supportive community. Around 250,000 people in Britain now choose to live in residential park homes, according to Government figures. There are about 2000 parks in the UK and most are designed to meet the needs of retired or semi-retired residents.
Park homes are bungalow-style accommodation, built to a British Standard with excellent insulation and low maintenance requirements. Prices often compare extremely favourably with nearby bricks and mortar properties, and generally mirror percentage changes in the housing market.
Usually located in attractive rural areas, parks sustain friendly and mutually supportive communities – where residents can enjoy independence without the need of support from public funds for their accommodation.
Park homes are a unique form of housing tenure. Legislation governing the park homes sector includes the Caravan Sites & Control of Development Act 1960, the Caravan Sites Act 1968, the Mobile Homes Act 1983, and the Housing Act 2004. The Department for Local Government and Communities is currently undertaking an ongoing programme of regulatory reform to further safeguard the interests of park home owners whilst facilitating the industry's development.
Government research also shows that the demand for this form of housing outstrips supply. Local authorities tend to overlook the importance of this sector as a provider of low cost, high quality accommodation.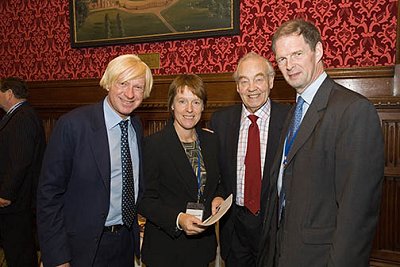 Photograph shows: Michael Fabricant MP (left) discussing residential park reforms at the special Parliamentary briefing with Caroline Spelman MP (Shadow Secretary of State for Communities and Local Government), Lord Graham of Edmonton (Secretary to the All Party Group which hosted the event), and James Arbuthnot MP