On 17th November 2006
Responding to the public letter of the 16th November written by Robert
Lake, Chairman of the Staffordshire Ambulance Service, Michael Fabricant
comments: "No explanation is given why, since the Partnership with the
West Midlands Ambulance Service began, drugs and equipment still in use
with other ambulance services in England are suddenly considered to be
illegal or dangerous for use in Staffordshire. No-one is criticising
the sheer professionalism of paramedics in the Staffordshire Ambulance
Service, it is the new management over whom a question mark now hangs.
It is a tired old technique by beleaguered politicians to defend
themselves by saying that any criticism of them lowers morale of
workers.
"Drugs and equipment withdrawn in Staffordshire are still in use in
ambulances and by First Responders elsewhere. Why has Staffordshire
alone determined that the Medicines Act is being breached? This is the
question that need to be answered. And while I applaud the rapid
response times of our Ambulance Service and First Responders, without
equipment like ResQPOD and vital drugs being available in time,
mortality rates in critical cases are bound to increase. It is common
sense.
"The new management needs to stop faffing and do what is right for
Staffordshire."
The letter from Robert Lake follows:-
I am writing in regard to a number of press articles that have appeared
over recent weeks criticising Staffordshire Ambulance Service.
I would like to provide some reassurance to the public that the service
provided in this county remains of a high standard and that every member
of staff is committed to maintaining that. Some of the claims that have
appeared I consider to be spurious at best. To say that the Trust's
performance is being 'dumbed down' does a great discredit to the hard
work that goes on every single day.
This organisation is open about our performance and we are monitored by
the Healthcare Commission to ensure that our figures are accurate.
These figures are published on a regular basis and the Trust has nothing
to hide in this regard.
For the record the following figures show the performance of the Trust
over the last 12 months including November (month to date) against the
Department of Health standard of 75%.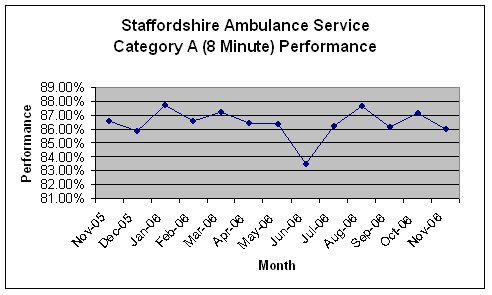 Ambulance staff, whether in this county or anywhere across the West
Midlands, work incredibly hard to provide the best patient care, as do
the many hundreds of Community First Responders (CFRs) across the
region.
In regard to the actions taken to reduce the number of drugs that can be
administered by CFRs in Staffordshire, the decision was taken by this
Trust alone on the grounds of patient safety. Operating within a legal
framework for medicines is essential for every member of staff and
volunteer and protects each individual and the Trust as well as
patients.
If there was even a hint that another NHS organisation was operating
outside such a legal framework, the public and regulatory bodies would
have major concerns, and rightly so. We have always said that this
action is a temporary measure and will remain in place until we have
completed the essential reviews that are necessary to establish the
facts of the matter. We have also said that we will re-introduce these
drugs if, and when, it is legal and safe to do so. The public would
expect nothing less.
I would call on everyone to wait until these reviews are completed and
stop undermining the excellent work of our staff and volunteers who do
their job in often difficult circumstances. I am extremely proud of our
ambulance service and I am sure that every member of the public is too.