On 3rd November 2006
The Right Honourable William Hague MP, Shadow Foreign Secretary and
former Leader of the Conservative Party, addressed the Annual Dinner of
the Lichfield Conservative Association at Drayton Manor Park last night
(Thursday 2nd November).
Over 200 guests heard William speak about the recent debate on whether
there should be a full and independent inquiry into the reasons given
for the War in Iraq, and – more light heartedly – his relationship with
the Deputy Prime Minister whom he faces across the Dispatch Box each
month: John Prescott. Michael Fabricant proposed the vote of thanks.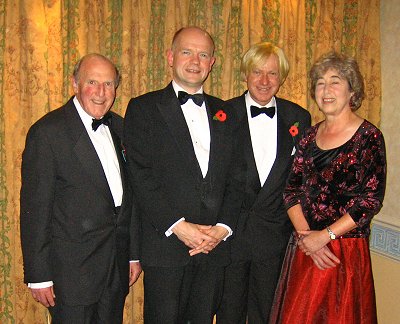 Photograph shows, left to right, Cllr Frank Lewis (Chairman of Lichfield
Conservatives), William Hague, Michael Fabricant, and Mrs Jean Simpson
(Organising Secretary).