On 3rd November 2006
A multimillion pound investment programme at the Armitage Shanks factory
near Lichfield has secured its future. "An innovative deal between
unions and management has secured jobs at the factory and made the
Armitage plant competitive with its Asian rivals" says Michael Fabricant
who visited the plant today (Friday 3rd November) to tour their new
state of the art Tank Cell. This facility, which is a world first in the
Group, will eventually produce up to 600,000 pieces each year. Using the
latest robotic automation it demonstrates Ideal Standard's continued
commitment to Manufacturing Sanitaryware in the UK. However more
importantly it will also allow the company to compete with low cost
Asian imports.
"State of the art robotics combined with recycling and excellent worker
relations has strengthened the medium term future of the factory.
However, the competition is tough. I shall now be taking up issues like
gas and electricity prices which are far higher in the UK than other
parts of the EU with Energy Ministers as these are driving up the costs
of manufacturing throughout the West Midlands. I shall also be
exploring the possibility of obtaining match funding from the EU and
elsewhere for a programme to generate clean, solar energy for part of
the Armitage plant", Michael adds.
Brian Standbridge, Ceramic Operations Director and Alex Philips, the
Armitage plant manager, toured the site with Michael Fabricant who was
delighted with the continued investment and development of the Armitage
site.
Brian Standbridge says "This $5 million investment further improves the
competitiveness of the site and secures it's productivity position as
No.1 globally within our Group". Alex Philips added "This latest
investment reflects the continued excellent performance of the site and
all it's employees".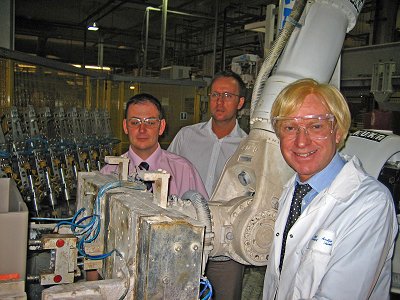 Photograph shows, left to right, Brian Standbridge, Alex Phillips, and
Michael Fabricant alongside one of the huge robotic arms.