On 21st October 2006
At an emergency meeting today (Saturday 21st October), Community First
Responders in Whittington – whose service area include parts of
Lichfield and Tamworth – went back on call, but only "pending permission
being given to re-use drugs now withdrawn from service" says Chairman,
Frank Bartlett.
"Community First Responders feel badly let down by Staffordshire
Ambulance chiefs and they believe that they cannot help save lives in
some incidents without the drugs they have all been trained to use",
says Michael Fabricant who attended the meeting together with Matthew
Ellis the county councillor for the area. "A meeting has now been
organised between all Staffordshire MPs and ambulance chiefs. It is
imperative that Community First Responders throughout Staffordshire now
contact all their MPs and county councillors so they are made aware of
the situation. In the meantime, I am waiting for answers I have tabled
to the Prime Minister and to the Health Secretary regarding the
withdrawal of drugs and ResQPOD equipment", Michael adds.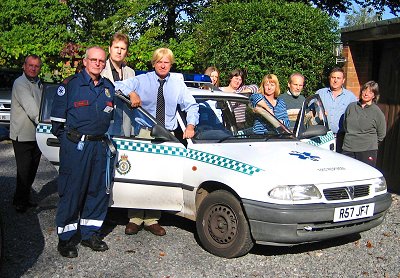 Photo shows the First Responders in Whittington following the meeting
with – left to right – Frank Bartlett (in uniform), Cllr Matthew Ellis,
and Michael Fabricant