On 1st September 2006
Following Michael Fabricant's address on Sunday 23rd July at the
National Memorial Arboretum in Alrewas near Lichfield to Chief
Constables throughout the UK at the annual service of remembrance for
police offices killed in the line of duty, Home Office Minister Tony
McNulty has written to Mr Fabricant to confirm that there is no national
guidance on how police forces treat bereaved relatives. In his speech,
Michael Fabricant said that he is aware that standards of care vary from
police force to police force and that this "is plainly wrong".
In his letter, the Minister says: "I would first like to pay tribute to
all those police officers who have lost their lives protecting the
public and serving our communities. Like you I believe it is important
that a high standard of care is given to the families of these officers
when they face such a difficult time.
"I understand from the Association of Chief Police Officers (ACPO) that
there is no national guidance on this issue………….. You say that
some police forces appear to be more adept than others in helping
bereaved families when an officer loses his life and I am therefore
copying your letter and my reply to Christine Barton ACPO personnel
management portfolio lead."
In response, Michael Fabricant now says: "In recognising that standards
of care do vary between different police forces, I hope that ACPO will
issue national standards so that relatives can be supported at this
difficult and vulnerable time. Over the last year, 12 policemen and 4
policewomen lost their lives in the course of their duty and 22 children
have been bereaved. We owe them a huge debt and their children,
partners, and relatives deserve the highest standard of after-care.
When Parliament returns, I shall be asking what practical steps have
been taken by ACPO to standardise care throughout the United Kingdom.
Relatives of fallen police officers have told me good stories as well as
bad about how different police forces have treated them after a police
officer has lost his or her life."
For further information, see
News release of 23rd July 2006,
and www.ukcops.org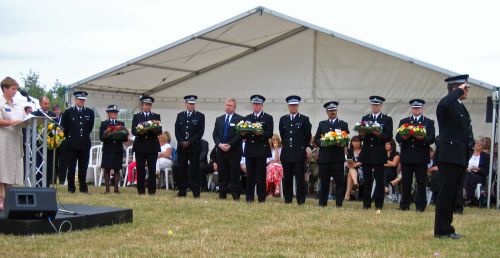 Photograph shows Chief Constables laying wreaths of remembrance to
fallen police officers at the service held at the National Memorial
Arboretum on Sunday 23rd July.