On 15th July 2006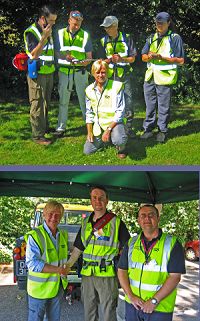 On Saturday morning (15th July), Michael Fabricant joined the
Staffordshire Search & Rescue Team on an exercise to find a missing
student. As a member of the Association of Lowland Search and Rescue,
the primary role of the Staffordshire Search & Rescue Team is to seek
missing persons in both rural and urban areas. But the Organisation
also assists the community in times of crisis whether it be due to bad
weather or civil disaster.
Michael says: "These volunteers are trained in search and rescue and
first aid and should be a valuable resource to the police and other
services. They are widely used in Cheshire, but under-utilised in
Staffordshire. They could have been engaged, for example, in seeking
out the remains of Gladys Hammond which were hidden by animal rights
activists on Cannock Chase; but they were not. The Team are well
trained and organised. At a time of police shortages, we should be
making far better use of them."
For further information about membership, contact Mark Walker on 07976
289994
Photographs show Michael with the Staffordshire Search & Rescue Team.