On 4th March 2006
Building on the success of Chasetown Football Club in the recent FA Cup
Competition, Michael Fabricant is backing a scheme which would upgrade
the football ground to provide a covered stand with seating – a minimum
requirement if the Club is to move into a higher league – and provide a
much needed sports village with conference and dining facilities for
300-400 people. Following an earlier meeting held a couple of months
back, Michael today (Saturday 4th March) visited the Club for a further
meeting with John Donelly (Club Chairman), Brian Baker (Club President),
and Councillor Paul Atkins. Michael will now be writing to Tessa Jowell
– or her successor as Secretary of State for Culture Media & Sport – to
explore the availability of lottery funding to match local financing.
Michael says: "The Chasetown Sports Village will be a huge shot in the
arm for the most deprived part of my constituency. By a happy series of
coincidences, I believe that the Village can be made a reality offering
much needed social and sports facilities. Firstly, money is available
from Chasetown FC's success in the FA Cup; secondly, the Club grounds
happen to adjoin Chasetown Specialist Sports College whose students
would be able to use these facilities; thirdly, neighbouring waste
ground which is currently a focus for anti-social behaviour could be
converted to a multipurpose Astroturf facility with tennis courts and a
bowling green; fourthly, the Village is easily accessible to the rest of
the region from Junction 6 of the new M6 Toll Motorway; and finally, it
would also provide a much needed venue for the arts in this part of
Burntwood. It would be mad if this nexus of circumstances were not now
fully taken advantage of.
"I am impressed with the speed and professionalism with which these
plans are progressing and they have my enthusiastic support. I shall
monitor its progress closely", Michael adds.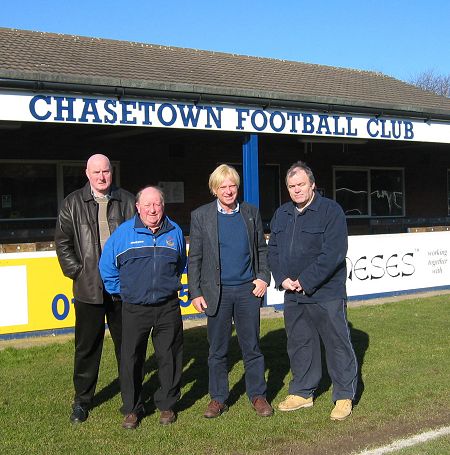 Photograph shows left to right: Cllr Paul Atkinson, Brian Baker,
Michael Fabricant, and John Donnelly