On 8th November 2004
Burntwood based manufacturing company, Delta Process Systems Ltd, was visited by Lichfield Member of Parliament, Michael Fabricant, on Friday last (5th November).
Mr Fabricant, a well known champion of British technology and the manufacturing industry and Shadow Minister for Industry and Technology, met Delta's managing director, Dave Meller and commercial manager Bob Hughes, who described some of the company's latest specialised product finishing installations. These include new state-of-the-art resin curing ovens for Filon Ltd, the GRP roof sheeting manufacturer, which has recently relocated to Burntwood.
Delta Process Systems has over 30 years' experience in the design and manufacture of product finishing, painting and powder coating equipment, and has installed many systems in the UK and overseas for automotive, plastics, electronics, wood finishing and metal fabrication applications.
Mr Fabricant said: "It was fascinating to visit a Burntwood company, which not only manufactures and sells specialised equipment to firms with household names based in the UK – like Sharp and JCB, for example – but one that has also extended its sphere of interest to countries such as Belarus. It's a shame that the over-regulation of firms in British manufacturing is reducing their competitiveness compared with those in other countries – this makes selling all that more difficult."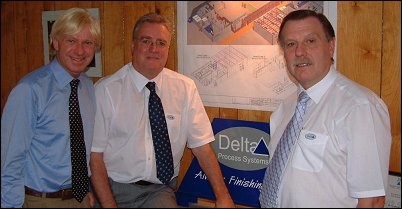 Michael Fabricant (left), Bob Hughes (centre) Delta's commercial director, and managing director, Dave Meller.