On 12th August 2004
Exploding petrol bombs and stone throwing crowds were all part of a day's
work for Michael Fabricant when he joined police for a tough training
session.
Michael Fabricant was kitted out in flameproof clothing and helmet to see
how police are trained to handle difficult public order situations. And he
needed the special protection as he was pelted with wooden blocks and
subjected to two petrol bomb attacks during the training day at the police
Regional Public Order Training Centre based at RAF Cosford.
The centre trains officers from Staffordshire, the West Midlands, West
Mercia as well as other forces in how to prepare for public disorder
anywhere in the country.
The visit was organised by Lichfield City Centre beat officer Dean Cooper
who joined Michael as he faced an angry "mob" made up of police officers.
After surviving the day, Mr Fabricant said: "The exercises ensure
Staffordshire's Police officers are prepared for any eventuality.
"The training was undertaken in realistic and sometimes frightening
conditions which enable the police to show their mettle. I was most
impressed with both the standard of the training and the professional
approach of everyone who took part," he added. "As well as being pelted
with rocks and petrol bombed by 'rioters', I was able to get my own back
when later, in two exercises, I became a rioter and stoned the police back.
All in the cause of authentic training, you understand."
The visit was arranged by PC Cooper as part of his role as Lichfield's City
Centre beat officer which involves working with the community to reduce
crime.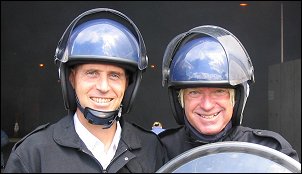 PC Dean Cooper (left).
with Michael Fabricant in full riot kit.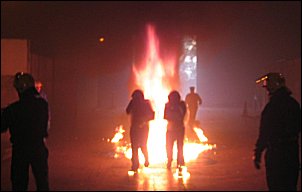 Michael Fabricant (right) emerging from the
flames after being petrol bombed
.