On 28th July 2004
Launch of new BMW 1 Series will increase demand for engines produced at
BMW's West Midlands engine factory
On Friday 9 July, the Lichfield MP and shadow DTI minister Michael Fabricant
was welcomed to the state-of-the-art BMW engine factory at Hams Hall, near
Coleshill in North Warwickshire, by plant director Harald Krueger. Mr
Fabricant was informed about the successful development of the plant since
its launch in January 2001 and was told about plans to increase production
output and create new jobs.
This year, the Hams Hall facility, which produces all of BMW's four-cylinder
petrol engines, will build around 140,000 units for export to the BMW
vehicle plants in Germany and South Africa. Currently, these engines are
used to power the immensely successful BMW 3 Series models. The introduction
in September 2004, however, of the eagerly awaited new BMW 1 Series will see
production rise next year to well over 200,000 engines as the company enters
the compact segment of the car market with a premium brand product.
Plant director Harald Krueger explained to Mr Fabricant that the BMW Group's
successful strategy of achieving profitable growth exclusively with premium
quality products will lead to new jobs at the Hams Hall plant, which draws
its workforce from across the West Midlands. The UK is the BMW Group's third
largest market worldwide for sales. It is also the only country in which all
three of the BMW Group's premium brands – BMW, MINI and Rolls-Royce – has a
manufacturing presence.
Mr Fabricant said: "I was delighted to discuss BMW's long-term commitment to
the West Midlands and to the UK. I was also impressed by its approach to
developing the skills and qualifications of its employees and by its
impressive commitment to environmental management. BMW is investing
substantially in both and is a major asset to the community. I was also able
to thank BMW personally for its generous support as principal sponsor of
this year's Lichfield Festival."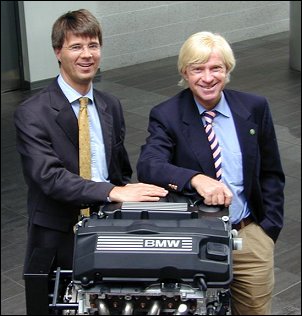 BMW plant director Harald Krueger (left) with Lichfield MP Michael Fabricant
(right).