On 25th June 2004
Michael Fabricant today (Friday 24th June) visited Richard Crosse Church of
England Primary School in Kings Bromley to answer questions from the 5th and
6th Year children as part of their citizenship classes. He later toured the
School and saw their environmental area – and the baby frogs in the pond.
The visit preceded their School Fun Day on Saturday.
Headteacher, Paul Lovern, said "Michael hadn't visited the School for 5 or
6 years. So we thought it was about time to put that right. In order to
make our lessons more meaningful and interesting as part of our topic on
citizenship, we decided to invite Michael to come to the School and talk
about his life as an MP.
"The children were very excited about the prospect and set to devising as
many difficult questions as they could. Michael had to endure far more
searching questions than the Prime Minister does at Question Time in the
House of Commons. A great afternoon was had by all!", Paul adds.
Michael says "I very much enjoyed the visit to the School, meet the
children, and to see its fabulous new extension designed by a local
architect. There is a lovely atmosphere at Richard Crosse and I can well
understand why children attend the School from well outside the Kings
Bromley area. The children were fantastic and asked very probing questions.
I am very grateful to Mandy Cairns, their teacher, for organising my visit.
I hope I will be invited again.
"In the meantime, I have invited Paul to arrange a school trip to let the
children visit the Houses of Parliament for themselves."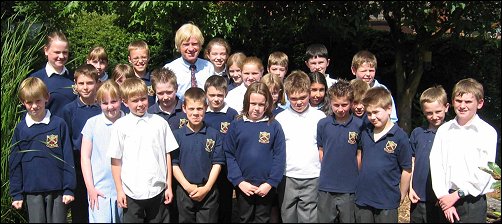 Picture shows Years 5 and 6 with Michael Fabricant in the environmental area by the pond.