On 7th May 2004
Twenty Lichfield commuters had dinner in the House of Commons last night (Thursday 6th May) with Michael Fabricant and senior directors of the Strategic Rail Authority. Jim Steer (Managing Director, Strategic Planning of the SRA) gave a speech after dinner and then answered questions about the rail service between Lichfield and London. He was assisted by Stuart Baker (Director of West Coast Modernisation of the SRA) and Tony Francis of the SRA.
"My constituents were concerned about the level of service between Lichfield and London and also Lichfield and the North between September 2004 and the end of 2008 while the 4-tracking of the West Coast Main Line is underway. The SRA then outlined the services that would be available after 2008. After an hour or so of questions and a detailed discussions, Lichfield commuters were persuaded that the service would be improving. The next dinner of the Club will be with the Managing Director of Virgin Trains on the West Coast Main Line and anyone interested in joining the Club should contact me." says Michael Fabricant.
The Lichfield Commuters Club is an 'ex-pats' club for 'refugees' in London from Lichfield and the surrounding area. It is an opportunity for commuters to meet in the elegant and convivial surroundings of the House of Commons and enjoy an informal, but good, meal. The next dinner will be held on July 6th with Virgin Trains. Any commuters interested in joining the Club should call Michael Fabricant's office for details on Lichfield 01543 419650 or write to him at the House of Commons, London SW1A 0AA.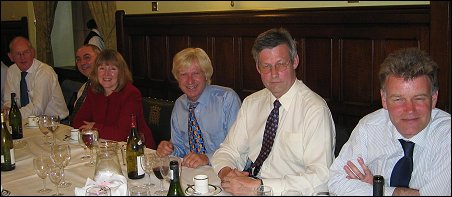 Picture shows the Club having dinner at the House of Commons. To the immediate right of Michael Fabricant is Jim Steer of the SRA and to Michael's left is Dorcas Batstone OBE who is the convenor of the Club. Dorcas is a regular Lichfield commuter.