On 5th December 2003
Michael Fabricant met midlands manufacturers on Wednesday 3rd December when
the Black Country Chamber of Commerce – which has an associate chamber
covering Lichfield – visited the House of Commons. "The British Chamber
of Commerce has estimated that extra taxes and regulations have cost British
manufacturers more than £16 billion over the last 5 years. No wonder
manufacturing jobs are being lost across our region." says Michael
Fabricant. "As the Shadow Minister for Economic Affairs, I was delighted
to meet some of the local manufacturers who came down to Westminster to
discuss the problems they are facing. Clearly, the Government needs to
address over regulation and a serious skills shortage in our area. We are
becoming less competitive compared with other countries having dropped 9
places in the international manufacturing competitiveness league in the last
few years."
Ian Brough, Director of Policy and Representation of the Black Country
Chamber of Commerce says: "A key issue is the need to reinforce the message
to Government that manufacturing matters to the West Midlands and the
Country overall. The headlines can often be misleading and for the ill
informed it would be easy to misinterpret and feel despondent, believing
that the continued decline in manufacturing is un-stoppable and no one,
particularly the Government, cares or is taking action. Significantly the
Midlands is still losing large numbers of traditional manufacturing jobs and
with the likely demise of Goodyear and Alstrom in Birmingham on the horizon
serving to emphasising that no organisation is immune from pressures. There
are however, a great many successful companies and key individuals who are
succeeding against all the odds.
"There are success stories and a number of the bright up and coming
companies show signs of tremendous potential will be joining the delegation.
For example Eurotec in Wednesbury, winning back contracts from Spain,
Hungary and Poland, whilst Zeus Aluminium is making significant gains in
Germany and Tansun Ltd from West Bromwich, acknowledged as leaders in Europe
are in the early stages of launching their world-class sun tan machines on
the North American market.
"The skills issue is never very far from the surface in any debate related
to the future of manufacturing and the now well-recognised skills shortage
is a serious challenge."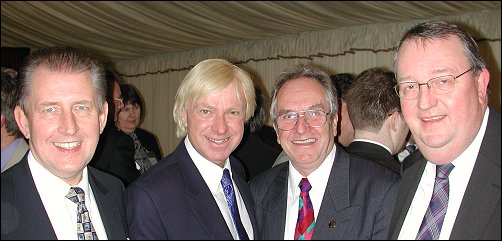 Left to right: Alan Vurlan MD Cooper Coated Steels Ltd, Michael Fabricant, Terry Hunt MD Litescene Ltd, and John Reader Director Black Country Chamber.