On 5th December 2003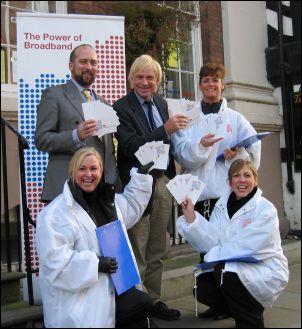 Advantage West Midlands and BT came to Lichfield on Friday 5th December and
Saturday 6th December to demonstrate the 'Power of Broadband': especially
its advantages for smaller businesses and those who work from home. A
display was set up at the Lichfield District Tourist Information Office in
Donegal House, Bore Street in Lichfield. Michael Fabricant assisted by
handing out cards in Bore Street, Lichfield inviting people to register
their interest in broadband.
Much of the Lichfield Parliamentary constituency is now broadband enabled
and even Abbots Bromley which previously was regarded as too small has now
had a 'trigger level' set by BT. If just 150 people register their interest
in broadband without any commitment to purchase the service, Abbots Bromley
will have its exchange enabled. So far 81 have registered an interest.
Alrewas has just reached its trigger level and will soon be equipped for
broadband, Armitage has 204 registered out of 250, and just 22 more people
need to register in Whittington to reach their trigger level of 150
registrations. The 'Power of Broadband' roadshow aims to demonstrate the
advantages of broadband as well as encourage people to mount local campaigns
to get people to register.
"Our rural economy has been shattered over the last few years. Broadband
enables people to diversify into many different areas of business activity.
My aim is to see the whole of my Lichfield constituency from Abbots Bromley
in the north to Lichfield in the south wired for the 21st century. We are
already a long way down that track." says Michael Fabricant.
Photograph shows Michael Fabricant with Eddie Murphy Head of ICT Policy at
Advantage West Midlands with some of the girls handing out 'The Power of
Broadband' cards in Bore Street, Lichfield.