On 22nd November 2003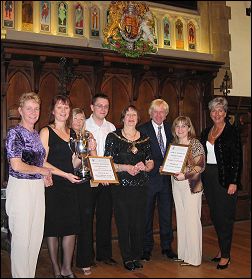 Michael Fabricant presented the awards with Cllr Barry White, Mayor of the
City of Lichfield, at the Lichfield Chamber of Trade & Commerce Awards
Evening at The Guildhall, Lichfield on Saturday 22nd November. Prior to the
presentation of the awards, Michael spoke to the local businessmen and told
them "It is local businesses and locally owned businesses that give the
character to any town and particularly to our Cathedral City. You are all
to be congratulated for being here this evening." He went onto warn them,
however: "You should not fear competition from larger chains coming to our
area and I note that some such shops are represented here tonight. If, for
example, we can attract a major department store here to Lichfield, it will
act as a magnet for shoppers outside our immediate area. Far from driving
local specialised shops out of business, it can help enhance trade in our
City. It is important, however, that we attract the right quality of shops
into Lichfield that will reflect the growing affluence of our City which has
already made a name for itself as a major restaurant and theatre venue in
our part of the country."
Picture: Marks and Spencer whose Simply Food store in Lichfield won two categories:
Best Branch of a National Chain and Best New Business. The photograph show
Michael Fabricant with Mrs Christine Ivison (President of the Lichfield
Chamber of Trade & Commerce) and the manager and staff of Marks and Spencer
in Lichfield.