On 14th November 2003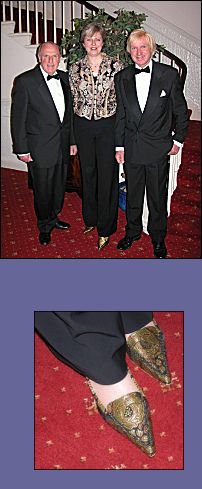 The Right Honourable Theresa May MP was the guest speaker on Thursday (13th
November) night at The George Hotel, Bird Street, Lichfield for grand Annual
Dinner of the Lichfield Constituency Conservative Association. Mrs May was,
until last week, the Chairman of the Conservative Party and is now Shadow
Secretary of State for the Environment and Transport. She spoke of the need
for "A Conservative Government which would be so different from the present
Labour Government which has promised so much, but has delivered so little,
but taxed so greatly."
Grace was given by Revd Prebendiary John Ridyard, Theresa May was introduced
by Lichfield Constituency Conservative Association Chairman, Councillor
Frank Lewis, and the Vote of Thanks was given by Michael Fabricant. Over
100 attended the black tie dinner; another 80 were turned down through lack
of space.
Michael Fabricant says: "I was delighted Theresa could attend despite her
not remaining as Chairman of the Party. In her role of Secretary of State
for Environment and Transport, she can see for herself the transportation
problems we face in the midlands whether it be by road or rail".
In his vote of thanks, Michael said "The Labour Party tries to characterise
Conservative Councils as old fashioned; yet Conservative run Lichfield
District Council has the greenest recycle waste policy in the west midlands
and the Lichfield Garrick Theatre provides arts of the highest calibre.
This is something of which we can be proud. Labour Councils promise all
this; they just fail to deliver."
Pictures:
[1] Theresa May with (left) Councillor Frank Lewis and (right) Michael
Fabricant in The George Hotel, Lichfield.
[2] Theresa May's shoes matching her jacket: Russel & Bromley Gold
Brocaid kitten heels designed by Beverly Feldman of New York City.