On 8th November 2003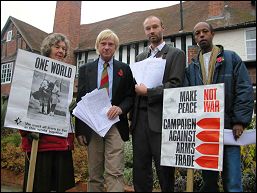 Michael Fabricant received a petition today (Saturday 8th November) from the
Campaign Against the Arms Trade signed by 525 residents of Lichfield
Whittington and Hints. Michael will now send these to Prime Minister Tony
Blair for his response. Michael shares many of these concerns. "Having
worked in Africa, I am only too aware that the poorest of nations are often
the biggest purchaser of weapons. Our defence industry is highly
responsible, but this Government has a duty to ensure that arms do not fall
indirectly into the wrong hands". In a debate on arms export licensing in
the House of Commons which he wound up as Shadow Trade Minister on Thursday
(6th November), he exposed loopholes in the law which allow British arms
dealers to broker sales of ground to air missiles and grenade launchers
without needing any licence at all.
"Particularly now, at a time of international terrorism, it is
extraordinary that missiles with a range of under 300 km are exempt from the
brokerage licensing scheme", Michael Fabricant says. "That excludes rocket
grenade launchers and ground to air missiles. But it is ground to air
missiles of the type used recently in Kenya against a jet airliner from
Israel and which caused a major scare at Heathrow airport a few months back
which are weapons most favoured by terrorists. There is a huge loophole in
government legislation which permits UK citizens to trade abroad in British
made weapons without any control by the Department of Trade and Industry.
I told the minister in the debate that he and other DTI ministers would bear
much of the responsibility if British citizens are killed as a consequence
of the weakness of the Export Control Act. These, and other loopholes, must
be closed immediately for the security of our nation and people".
Photograph shows Michael Fabricant receiving the petition from Andrew
Jacobs, from the Campaign Against the Arms Trade.