On 29th August 2003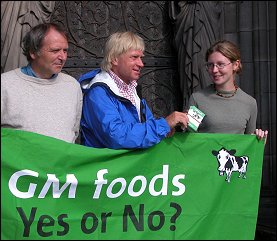 Michael Fabricant accepted a petition on Friday 29th August from Green
Peace. When polled by Green Peace at Lichfield's Medieval Market, 139
people stated they did not want to eat Genetically Modified foods while 2
stated they did not mind. Michael will now send the results of the survey
to Margaret Beckett, Secretary of State for the Department of the
Environment, Food and Rural Affairs. Green Peace is opposed to GM crops.
Michael Fabricant says: "While I am not opposed in principle to the growing
of GM crops, I am very concerned about the potential impact of GM crops on
the environment. I believe that testing of crops should be under much
tighter supervision than at present. Just as imported grey squirrels have
driven out our natural red species, there is a very real concern that some
undesirable versions of GM crops could drive out more natural varieties.
"Nevertheless, I do believe that in principle GM crops could provide food in
areas currently blighted by water shortages and will, in the future, save
millions of lives in developing countries. They can also help reduce the
cost of food here in Britain and sustain British farming. They should not
be banned outright. Nevertheless, I'll be passing on the results of the
Green Peace petition to Margaret Beckett and I shall be interested in her
response to it."
[PHOTO CAPTION:
Richard Haywood (left) and Davina Wileman (right) who are both members of
Green Peace in Lichfield giving petition cards to Michael Fabricant
(centre)]