On 11th July 2003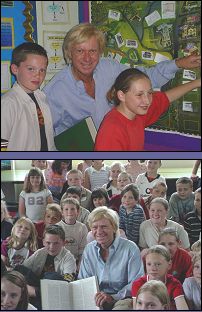 Michael Fabricant visited teachers and children this afternoon at Willows
Primary School in north Lichfield. He met children, headteacher Duncan
Birds, and Mrs Dawn Izon who is Literacy Coordinator and Year 6 Teacher.
His visit was to talk to the children of Year 6 about his life as an MP and
take questions. After speaking to Year 6, he presented the School with a
bound edition of Hansard, shown in the two attached photographs. Later he
looked at the School website which can be found by logging into
http://willows.digitalbrain.com
Michael says "This was an excellent visit and I enjoyed answering the many
and varied questions ranging from whether I have to wear special ceremonial
clothes as an MP and whether I have ever been shot at by a terrorist while
entering Parliament. The answer to both questions, by the way, was 'No'. I
was also asked about Public Members' Bills and about some quite complex
ideas in politics. I was most impressed with the children's understanding
of current affairs."
The School has just completed its OFSTED inspection. Willows is a Beacon
School and last year was given the School Achievement Award by the
Department of Education. Year 6 will be visiting London next Wednesday 16th
July.
The photos show Michael with Year 6 and at him looking at a map of the
imaginary town of Springfield which is used to explain the structures of
social, business and government life.