On 14th June 2003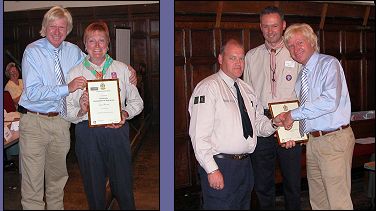 Michael Fabricant awarded certificates to adult Scout volunteers at the
Annual General Meeting of the Lichfield District Council held last night
(Friday 13th June) in the Guildhall, Lichfield.
Also attending the Meeting was the Lichfield District Commissioner, Jeremy
Cotton, who will shortly be leaving the District to become the Staffordshire
Scout County Commissioner. The evening celebrates the work done by so many
volunteers.
In a short speech after he handed out the certificates, Michael Fabricant
said "I want to thank all of you who came here this evening on behalf of
the work you do for the youngsters of the Lichfield Scout District and for
their parents. It is a tribute to you and the ethos volunteering in
Lichfield and Burntwood that this Scout District is one of the most
successful in the country". Michael was formally a cub scout.