On 10th June 2003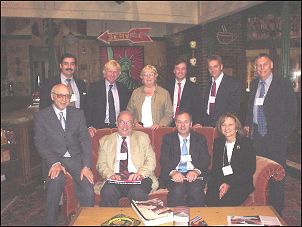 Michael Fabricant has urged Hollywood studio bosses to consider Lichfield as
"a typically English location for film makers". Last week, Labour MP the
Rt Hon Gerald Kaufman, Chairman of the House Select Committee on Culture
Media and Sport, lead a delegation of MPs to Los Angeles to meet film studio
management as part of an official Inquiry into how the British film industry
can be strengthened. But Michael used the opportunity to tell producers of
the glories of Lichfield. "Most film producers had heard of Lichfield",
Michael now says "but none knew where it was or that it boasted an 800 year
old cathedral and 'quaint houses' and street scenes. I told them that the
BBC had used Lichfield as a film location and had received considerable
cooperation from the local authorities. I will now contact the British Film
Commission to ensure that Lichfield is included in their list of desirable
locations for overseas producers. Locations used by film-makers benefit by
considerably increased tourism". Studios and producers visited included
MGM, Warner Brothers, Universal, Paramount, Sony Columbia Tri-Star, HBO,
Disney, and the Film Marketing Association of America.
The photo shows the Culture Media and Sport Committee on the set of the TV
series 'Friends' at the Warner Brothers studios. The photo was taken on the
set of the coffee house: 'Central Perk' (not 'Park') and top left to right
are John Thurso MP (Lib-Dem), Michael Fabricant MP, Rosemary McKenna MP
(Labour), Adrian Flook MP (Cons), Fergus Reid (Committee Clerk), and Alan
Keen MP (Labour). Bottom left to right are Gerald Kaufman MP (Labour
Committee Chairman), Derek Wyatt MP (Labour), Frank Doran MP (Labour), and
Anita Fuki (Committee Assistant).