On 22nd January 2003
Regular commuters from the Lichfield area who travel down to London met
Michael Fabricant who hosted a meeting last night (Wednesday 21st January)
in the House of Commons.
Michael says: "We decided that there should be regular dinners at the House
of Commons to which we would invite guest speakers. We plan to invite Chris
Green, the Chief Executive of Virgin Trains for our first dinner and then
representatives from the Strategic Rail Authority, the Rail Users' Council,
and the Transport Minister and the Shadow Transport Minister. This will not
only provides a social forum for 'refugees from Lichfield' to meet in
London, but also to question key people on the future of our rail links.
The commuters from Lichfield include 5 who work for different departments
within the BBC, several bankers, a journalist, and a senior executive of a
rail operating company – not Virgin Trains. All enjoy and prefer the
quality of life in Lichfield, but work in central London."
Anyone interested in joining the Lichfield Commuters' Club should email Ms
Dorcas Batstone (a commuter who has volunteered to coordinate the dinners)
at dorcas.batstone@elexon.co.uk.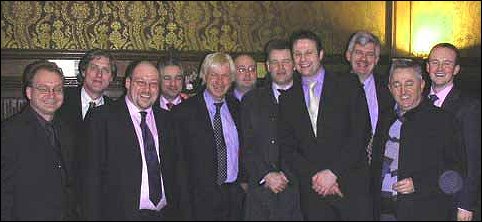 Photograph shows some members of the Lichfield Commuters' Club with Michael Fabricant in the House of Commons.